About:
With more than 15 years of product development and management experience, Andrew Tober has refined his skills in the design field. A true jack-of-all-trades, he utilizes a wide variety of professional, hands-on experience ranging from product design, concept art, graphic design and even the design and production of themed environments.  In his career he has developed numerous award-winning products and licensed brands for both large and small businesses.  His clients have ranged from companies such as Hasbro to Disney.
Andrew Tober holds a BFA in Industrial Design from the Columbus College of Art & Design. He currently resides in Orlando Florida with his lovely wife and son.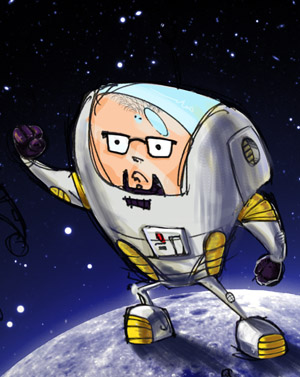 Work History/experience:
Over 15 years of professional product development experience.  Resume available upon request.
I specialize in product development but have a wide range of capabilities in the following areas:
•    Napkin sketch to concept art
•    Sculpture
•    Character design
•    Graphic design and packaging
•    Line stylization
•    Direction of prototype models
•    Final control drawing and color deco
•    Interfacing with engineering
•    Current safety standards and testing
•    Licensed product
•    Final sample signoffs
•    Working with the orient and traveling abroad
•    Overseeing designers both freelance and in house
•    Presentation to all levels of management
•    Knowledge in a wide variety of plastics and materials
•    Knowledge of web development and CMS
•    And much, much more
Contact:
tobertoys@hotmail.com