Robocop Head Concept Art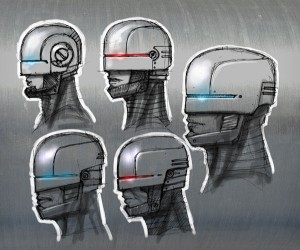 Wow, time moves quick.  Lots of things going on, so I'll keep it quick.  Here are a few concepts for the new Robocop helmet designs.  The main thing I want to talk about  is the mouth guard.  Everybody has always wondered "what if they shot you in the face?"  (much like dumb and dumber).  We'll that a perfectly legitimate question.  So why not have a cool mouth guard just incase.  So I came up with the concept of the face guard.  Which if I may say so, is a really cool addition.  When he puts this mask on you really know he plans on throwing down.
Next up I plan on throwing out some concepts for Ed-209.  Then after that wrapping up with the final designs.  Don't forget to check out the other Robocop redesigns  here and here. then tune in for the finals coming in the upcoming weeks.
See ya,
A