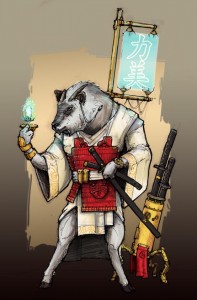 We're still in color this week.  The Sketch of the Week's themes are Japanese, Utopia and Serow (an Japanese goat type animal).  The concept came from doing some research on utopia and an image for Bioshock came up.  Which if you haven't heard of it's a video game that takes place in a underwater 1940s utopia that's gone to hell.  This got me thinking; I haven't really seen a Japanese utopian society done in a futuristic style.  I threw in the Serow aspect in for good measure.
So, nothing says high tec in concept art like glowy things.  Which is why I threw in the hologram device in his hand and the flag on his back.  Of course in a utopian society why would you have an old school flag when you can have one made out of energy?  I can't pin it but it has a Blade Runner feel. I did some quick research to get some tips on glowing photoshop techniques, which you can find some here.  I feel the flag could of came out better but I didn't want to spend too much time on it.
One of my favorite things in this sketch is the bearer bot. Usually this is an intern for a samurai that does his crap work like carry swords and other misc gear.  The style of it is like a walking umbrella rack.  I threw in the round access points to act like eyes and give it a somewhat timid personality as it peers from out behind the swords.  Honestly this guy probably already had enough swords but just like ninjas you never can have too many swords.
That's it for this week.  If you have any suggestions for next week's themes put let me know in the comments section.
Thanks,
A