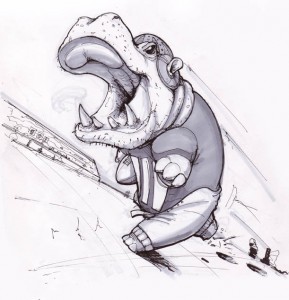 Sketch of the week is back and this week the three themes are animal, sport, and old skool.  Which translated into hippo, and 1940's football. Originally I was going to go with a gorilla instead of the hippo but it seemed to easy/obvious.  The hippo just seemed funnier with the fat body and the tiny legs.  Google one some time they have freakishly small legs.
When you think about it the hippo is the perfect character for a 1940's football player, tough and mean.  I never realized that hippos were mean S.O.B's.  Apparently they kill more people a year more people than lions, elephants, leopards, and rhinos!  So that helped play out the theme.  On a side note if you come a cross a hippo don't pet it….
I'm pretty happy with how this one came out.  I like the dynamic of the background and the perspective.  The uniform came out pretty good too.  My knocks on it would be the claw arm in the foreground and I could of pushed the contrast more.  Maybe even add a few silhouettes of other animal players.  But it's a sketch and not a full-blown illustration so I wont beat myself too much.
All right that's it for now.  Next week get ready for a five-wheeled motorcycle, pharaohs, and a bomb.
See ya
A
---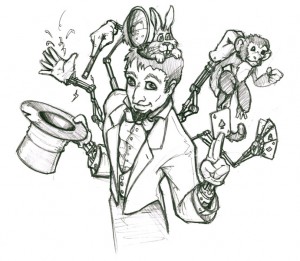 All right, this week's sketch of the week is a cyber, magician, with a monkey.  This one kind of looks a little like but with a little more hair… and a few more arms.  Ok maybe it looks nothing like me.
I'll post next weeks 3 random items before the weekend.   I'm open to suggestions.
Thanks,
A
---