I hope everyone has one last little bit of Halloween in them!  I missed the past week due to a fairly big freelance project with a tight deadline.  Gotta pay the bills I guess.  I was hoping to get in a few more Halloween sketches but what cha gona do?
So as promised I give you ZOMBIES!  And not just zombies but zombie clowns no less!  I've just combined two of the creepiest things on this planet.  I dare you to think something creeper!  O wait is that zombie on the bottom left Zombie Ronald McDonnald?  Heck yea complete with dollar menu cheeseburger.  Zombie can has cheeseburger!
I honestly cant give a good reason for the sepia tone other than I found an old photo online and it just looked creepy.  So I figured what the heck try it out.  For a sketch I think it works.  Could be a cool story as to why someone would of taken this vintage photo of some zombies.
O and who couldn't love the cute little midget zombie clown.  I just want to pinch his lil zombie nose as it squeaks at me…. and then proceeds to bite my face.
One last note I realized it helps to think of people with Cerebral Palsy when drawing zombies.  No I'm not trying to make a mean joke it's a helpful tip. The contortions of the body just seems to have an odd parallel.
Se ya next week as always I'm always open to sketch suggestions.
A
As an added bonus I found this sweet picture of a zombie baby.  Isn't he cute!
---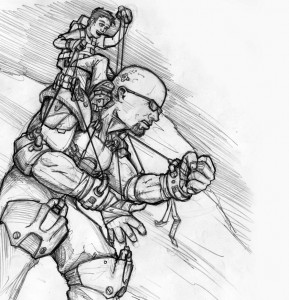 Yet another hump day, which means another Sketch of the Week!  This week's themes are: what people are telling me my life will be like after the baby is born, What the baby will look like in the future (via jiggys request), and a self portrait.
First off this is not what I envision for my future. This is merely a comment on what everyone keeps telling me life will be like after B-day.  The standard line so far is "your life will be horrible because of this" then followed by the "but it's the greatest thing ever".  Unfortunately most people don't sell the "best thing ever" line as much as they sell the first part.
This illustration will probably end up being the only one of my illustrations that becomes famous and art historians will talk about how this symbolizes my deepest fears and why they suspect I was secretly gay.  I'm sure Chris will say he always suspected this anyways.  That being said I think next week will be how I envision life after B-day.
Now on to the sketch. This one was done quicker than most, due to lack of time.  But I think it came out pretty good anyways.  One thing I do like is the ingenuity of the cable pulls that make me into a puppet.  The placement of "tiny E" (my future son) reminds me a lot of the dwarf/midget (whichever is the PC version) from Mad Max beyond thunder dome.  "Who rules barter town?" I also made myself wicked huge because that's what I will look like in the near future.
O and my major knock on this sketch is that Tiny-E's face is very generic.  I'll make up for that next week.  As always let me know what you think about this week and what I should do for next week.
Thanks
A
---