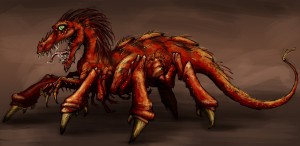 Here is the second part of this weeks sketch of the week.  You can see last weeks here.  It's amazing how a little bit of color can really push a concept.  I added a few things with color like the slobber in the mouth, some texture to the legs and back, and some stripes on the back and face.  The combo of these really help give it that nightmarish feel or the feel of something sailors catch from dirty women.  O and I almost forgot the addition of several more small eyes on the face to give it that extra creep factor.
That's it for this week.  Remember to give me more suggestions for next week.
Thanks,
A
---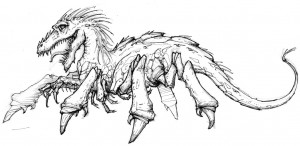 Its Wednesday again so once more I have to get off my lazy butt and do the Sketch of the Week!  FYI this weeks concept art will be a 2 parter.  I'll repost the sketch with color on Friday afternoon.  So that being said this week's themes are dinosaur (courtesy of wendog), scary (jiggy) and insectoid.
I'm not sure if scary is 100% accurate but for sure creepy comes to mind.  It's concepts like this that make me question my sanity.  Everything screams disturbing from the spider/crab like legs to the tiny little shrimp legs on the underbelly.  This is the kind of thing you imagine in your head when you feel that bug crawling up your leg.  Then you get that shiver, you know what I am talking about.
Then there is the odd hellish twist of the raptor like head with the needle teeth up top.  I'm fairly happy with how things came out on this one, which is why I am pumped to add color to it soon.
The addition of color will really push the scare factor on this sketch.  The addition of some more plates to the exoskeleton and some of the spines down the back will really push this up another notch. Slime on the teeth and tongue. The full nine yards.  I haven't decided the color pallet yet but I will probably start with a crimson red.  We'll see.
A
---