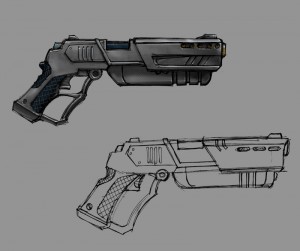 This week I worked on the some concepts for a new gun for Robocop.  Since this is how I would do Robocop he doesn't just get a handgun.  That not how I would do Robocop.  My Robocop should be more old west, law dawg.  So in my version he gets a futuristic sawed off shotgun.
The future weeks I'll show more on how things work but this shotgun would shoot five rounds before having to "reload" after that he has to switch to the second chamber by using the lever.  For show he would use the leaver T2 style, with spinning reload like t-100 did.  Yes there would be more simple ways to do it but this would look much cooler.
I figure he could reload the gun by halfway holstering the gun in his leg.  There would be some sort of reload mechanism that would insert the shells.
That's it for now.  More Robocop redesigns to come.
Dont forget to check out last weeks in progress concepts for Robocop himself (HERE)
A
---
This weeks SOTW is a redesign of Robocop.  A personal project I've been playing with off and on for a few months now, these are a few of the early concepts. Word on the street is that they are trying to revamp the Robocop franchise, so I wanted to give it a shot before they show anything.  This way if the updated version comes out and I don't like it I an actually say "I did something way better than that crap!"
On redesigns like this I always try to do almost a caricature of the old version.  I want to change it as much as possible but still have the character be recognizable.  If you can't tell it is, then you have pretty much failed.
Anyways in the next few weeks I plan on redesigning everything from Robocop's gun to ED-209.   What you see here is just a start, and I have a lot more coming up that will be a lot more fleshed out.  See ya next week.
---