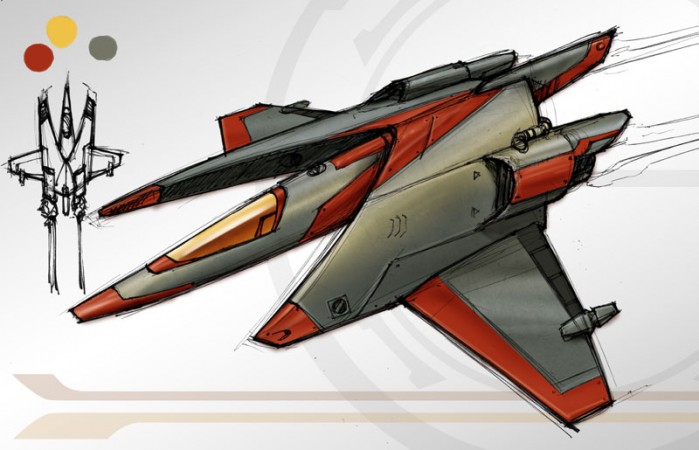 This weeks Sketch OTW is just a quick concept for a Space fighter.  After letting it sit for a week I can already see a few things I'd like to add.  Like a glowing jet stream and maybe some visible guns.  But maybe this would work for a civilian model.  I continued to overlay some metal textures from my favorite texture site. Most of the color was done by laying down a flat color I chose (each color on a separate layer) and then hitting them with the dodge and burn tools.  Adding some color gradients at the end.
No thumbnails to go with this one so as a conciliation price I give you the evil Devil monkey!  Enjoy!
---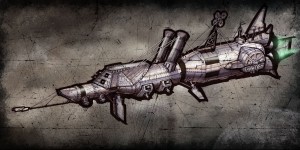 Welcome back!  The Sketch of the Week's themes are Civil War, Apollo 11.  Civil War (courtesy of Wendog), and the Apollo 11 in honor of the anniversary of the moon landing.  No third theme this week.  Sorry, I just thought the first two themes were so contrasting one more might be pushing it.
Anyways I can't decide if the concept art is getting weirder or more creative.   Its amazing how close genius and madness really can be.  I guess it's just on of those things history decides.
I'm pretty happy with how this weeks sketch came out.  The old photograph texture really helps play out just what the theme is.  I did that with a load of PS brushes on multiple layers.  A lot of the inspiration came from civil war era steamboats, warships and a submarine.  Yes apparently there was a sub back in that era.  You can see it here.
If I made a summery of just what I did I would say I pulled the 45 degree angles and rivets from the civil war era and added them to a Saturn V rocket. Throw in a few smoke stacks and support wires for good measure and this is what you get.  Originally I had this in full color but it just made more sense to give it the ye old photograph look. I threw in the green flame for no other reason than it just looked cool.
That's it for this week.  As always let me know what you think about this week and what I should do for next week.
A
O yea and FYI old skool astronauts were bad asses with huge huevos.  Did you know they fixed a broken circuit breaker with a pen while on the moon! Without it they couldn't take off.  They also only had minutes of oxygen left when the launched off the moon.  Now a days we are scared if their toilet breaks down.
---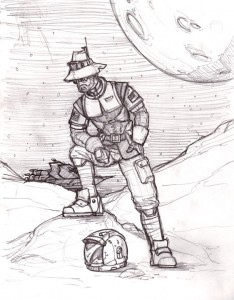 This week's sketch of the week is a pilgrim, astronaut, with a ship.  Be sure to note that this pilgrim is so tough that he needs no oxygen in space!
I had several sketches that lead up to this one.  Several using a lot more belt buckles but it felt like an overkill.  So I tried to make the astro/pilgrim relate more with the gloves and what ever you call that large white collar on a pilgrim.  You'd be really surprised by some of the similarities between Cosmonauts and old school pilgrims.  Eventually I will work in a color version of this, the color and texture will really drive home the theme.
Next week Ninjas with over sized guns!
Thanks,
A
---