---
---
Ok so the sketch of the week is really, really late this time.  Quit your whining it's here and free of charge. I'm still getting use to the whole father thing, which is going well FYI, thanks for asking.  I finally managed to get some time for this weeks sketch by hiding in the bathroom and pretending to be sick while the wife takes care of tiny E.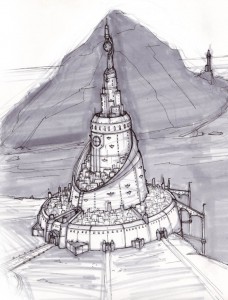 Anyways, I broke away from doing the normal three themes.  I've been wanting to work on a friends project/story so did this sketch of the castle I call Beacon.  The initial concept was a fortress that not only had the outer walls to keep invaders out but, it's also sectioned off on the inside to keep the four factions living inside from killing each other.  You can see how the fortress is broken up in the top view image. That's the basic concept so I ran with it.
I added multiple levels onto the fortress to also break up the different levels of the feudal system.  The higher up you live the better off you are, the lower well I guess it sucks to be you.  At the very top of Beacon is Beacon tower where the Marshal resides.  He's far from being the king, more like the watcher of Beacon.  Or maybe the babysitter would be more accurate.  I thought it would be cool if his office were suspended over the city while he keeps watch through his glass floor.  Some what voyeuristic but hey.  And above that is where the fortress gets its name, a lighthouse for incoming travelers.
It's a little hard to tell in the final sketch but there is an ocean port on the backside of the fortress.  You can see it more clearly in the side sketch.  The sweet part of this is that the flying buttresses would make an awesome rigging for the loading and unloading of cargo vessels.  Not to mention I can see a bad ass fight scene/ escape taking place here.
That's it for now. I'm a little tired and every time i write Beacon i have to double check so I didn't write bacon. Probably a little hungry too.  I'm already working on my hiding place to get next weeks sketch going.
---
---
---
---