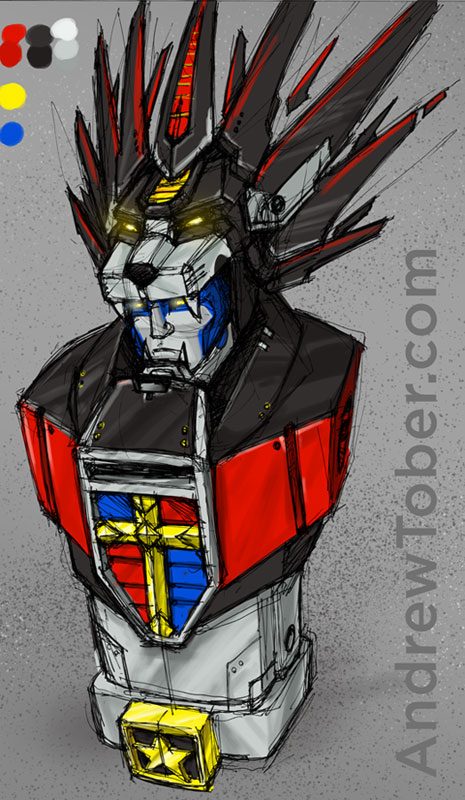 Like everyone my age, I have a love for everything 80's.  This week, I wanted to take a stab at re-designing Voltron.  I had fun with my concepts for Tron, so I figured I'd violate another classic from my childhood.
My favorite part of the design is the spiky mane around Voltron's head.  The mane always just seemed to be something missing from the original designs.  I thought about adding some to the other lions too but then I had a slight epiphany and realized that these giant robots are actually a pride of lions.  Which means one king and the mane on the black lion acts like a crown; so if all five lions were standing together, you could clearly spot the leader (like stripe from gremlins).  But I did toy with having the arm lions forming shields and weapons formed from manes.
A lot more thought went into the look of the torso than one would think, to making it more sleek but keeping it recognizable with the original version.  Nobody remembers but there was a Voltron series that came out a few years ago.  They tried to make the lions look more modern with a curvy, Industrial Design look but it never looked right which is why nobody remembers it.  Hence, I stayed with the more hard-edged look to reflect the original design.
With a little more time, I would love to develop the remaining lions more but that will have to be a project for a future date.
See ya next time,
Andrew Tober